When it comes to art, I'm weird.
I collect abandoned Tv's. Not like old Tv's you may have just lying around your home that you are willing to give away. I find mine on the mean streets of Boston and give them a loving home. What do I do with these perfect portrayers of image, you may ask? I give them new life, as Art Pieces.
Last October, when I lived in Allston, I went out to get some food at the local Vietnamese/Chinese/Korean/Japanese Food Court. As soon as I left my apartment though, I ran into a beautiful set. It was much bigger than any I had previously owned and I felt I must take it. Months later, I had a concept. For those of you who don't see my on a regular basis, I own a Ben Grimm/The Thing (Jack Kirby Era) Belt Buckle, because I treasure the family values that the Fantastic Four creates and Ben Grimm as the tragic character that he is. I had also recently purchased the "What If: The Fantastic Four all had the same powers?". So I thought of nothing more appropriate to paint.
Lets take a look at the artistic proces through photos:
1.
I started off with a simple Orange Spray Paint base, covering the entire surface area of the TV, minus the bottom. The Color came out nice and bright, exactly how Kirby intended. It was a painting process in the ass but it was worth it.
2.
The Funny thing is I ended up having to get a 2nd Can, which I wasn't anticipating. This is the TV before the 2nd Coat.
3.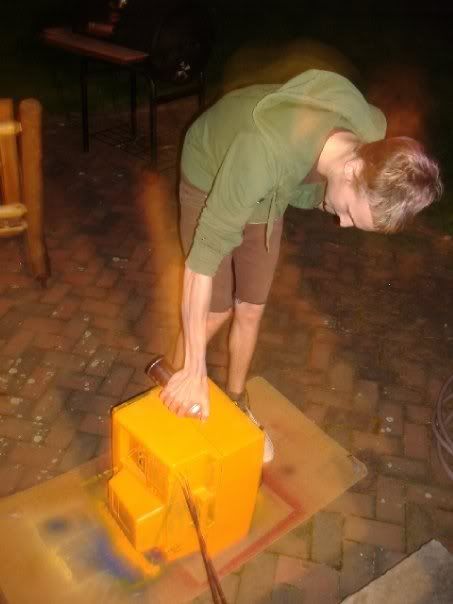 This is during the 2nd Coating. Look at how Bright that came out!
4.
After adding the lines with a Giant Paint Marker, this is finished product. Please ignore my goofiness while holding it.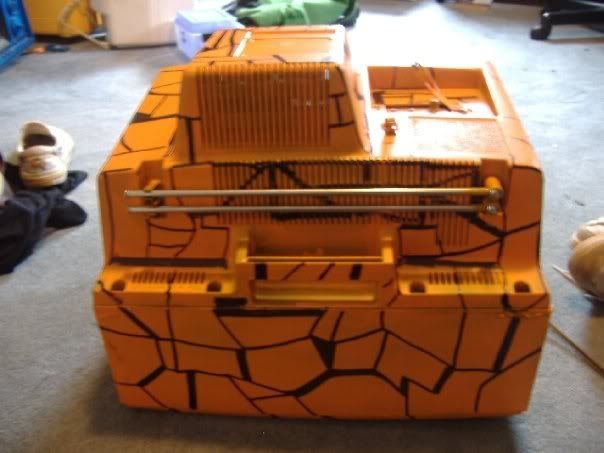 This is the Top. Design-wise, I think the TV really captures the essence of the Thing.
The Tower of Artistically Recreated Televisions. I need a concept for the Final One but for right now, I am a proud puppy.
~Sam